Karcajou
Kalua Dabsquoui Karcajou
Female
Born April 15, 2006
Measures 21 3/4 "
Weighs 44 lbs
OFA: Good

«Karcajou» is also an 8th consecutive generation from our female lines. She is the daughter of Ch. Murrayvale Hero's Alixer and out of Ch. Kalua Dabsquoui Kobra. True to her name (Wolverine), she is assertive and fearless! Blessed with great temperament and health, she already proved herself as a wonderful mother.
She is now enjoying her retirement with our friends Chantale and Roland.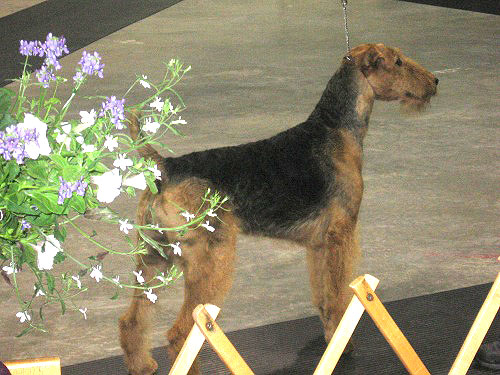 Some puppies images from Karcajou's June 2009 litter...
Kabotine
Ch. Kalua Dabsquoui Kabotine
Born September 18, 2008
Measures 22 ½ inches
Weighs 51 lbs
OFA: Good

As soon as they were born, Kabotine became Louise's favorite as long as Kahlan was Johanne's dog. So, we decided to keep both of them with us.
Kabotine started her show career the first one and finished her Canadian Championship before her first birthday, placing often at the Group level. She was noticed for her magnificent head and the great quality of her coat.
In 2011 she took the trails to compete against the Best; she finished 6th Best Airedale in Canada.
Pedigree
Below in 2011 competing in Canada.
Khaleesi
Ch. Kalua Dabsquoui Foxy Khaleesi
Female
Born May 5, 2013
Measures 22 inches
Weighs 48 pounds
OFA: Excellent

Kabotine's daughter, Khaleesi is the 9th generation of the female lineage. She is a stunning dog with a wonderful temperament and is of excellent health.
Mother of her first litter, she already produced "Alice" a Champion & Grand Champion. The best is yet to come.
Helio
Ch. Hat Trick's Brisline Bo Helio
Born June 14, 2011
Measures 22 inches
Weighs 45 lbs
OFA: Good

Helio was born in California. His breeders, Georgia McRay (Brisline), Nancy Dirgo & Marguerite Stetson (Hat Trick), believed in us and sent him at the age of 6 months & a half.
He is a real show man, likes the competition and is always willing to please. He will be part of our breeding programme.
Pedigree
Papaoutai
Ch. Kalua Dabsquoui Papaoutai
Male
Born January 28, 2015
Measures 23 inches
Weighs 55 pounds
OFA: Excellent

Papaoutai is a true representative of the breed.He will be a fierce competitor in the show ring and will be a top quality stud.
He obtained his Championship in 2016 and will prove himself as a great producer. He now lives with our friends. As his sister Katniss, he will no doubt follow in his mother footsteps.
Pedigree